One Month Intensive Introductory Ayurveda courses in India, Rishikesh.
YogAnga School of yoga and Ayurveda offers one-month Ayurveda courses in India, Rishikesh, its intensive study is aimed at beginning in right to the ancient knowledge of life Ayurveda with its purpose of maintaining the health of healthy and to treat the diseased.
This course is designed to impart insight knowledge about life… about medicine… healing powers… diagnosis… the power of nature and understanding elements to being harmony in life.

Overview of Ayurveda Courses in Rishikesh, India
One Month Ayurveda Course at YogAnga School of yoga and Ayurveda
Introduction to ayurveda theory classes.
Parayana (scripture reading A.H).
Therapeutic classes.
Ayurveda cooking.
Medical preparations.
Marma science.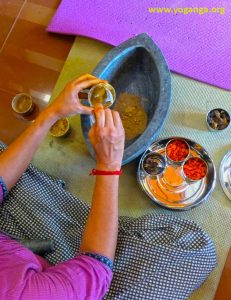 1. Ayurveda Theory Classes (Introduction – 30 Days)
Basic Principal of Ayurveda Theory
Deep Knowledge about the doshas (Vaat, Pitt, Kafa).
Body and mind constitution analysis.
Knowledge of dhantns, malas.
Agni concept in ayurveda.
Ama concept in ayurveda.
Food principals (understanding food, principal of when, how, what, how much and why to eat and drink).
Rejuvenation theory in ayurveda (eight diagnosis technique ex Nadi. etc).
2. Therapeutic Classes – Practical (15 Days)
Ayurvedic massage.
Simple treatments in ayurveda.
Marma practical workshops, therapeutic application.
Treatment principal in ayurveda.
3. Ayurveda Cooking Classes (6 Days)
Foods used for lick.
Ayurveda cooking for healthy.
Medicinal preparation (Oils <hair/Body>, Soap, Toothpowder etc)
4. Forest Walk /Ayurvedic/day trip to the botanical garden. 
Daily Routine: One Month Intensive Ayurveda Course in India
4:00 Am – awakening Conch, Aarti, Silent Meditation
6:00 Am – Scripture Reading
7:30 Am – Asana Class
9:00 Am – Breakfast
10:00 Am- Karma Yoga
11:30 Am – Practical Class
1:00 Pm – Lunch
3:00 Pm – Tea Time (Herbal Tea)
4:00 Pm – Ayurveda Theory Class
6:00 PM – Dinner
7:15 Pm – Vedic Chanting
8:00 Pm – Meditation Class (Kirtan)
9:00 Pm – Lights out
DOWNLOAD APPLICATION FORM and return it to om@yoganga.org
Upcoming Yoga Ayurveda Course Schedule – 2018 – 2019 ( Haridwar – Rishikesh ) India
2nd January – 31st January 2018  ( Ayurveda Intensive and Vyayame Yoga (certificate course)
16th April – 30 April 2018  (yoga and Ayurveda Introduction)
9th October – 7th November 2018  (yoga and Ayurveda introduction (certificate course)
5th January – 4th February 2019  (Ayurveda Intensive and Vyayame Yoga (certificate course)
6th April – 18th April 2019  (yoga and Ayurveda Introduction)