Each Summer follow YogAnga Retreat European Tour with brother and sister team, Ganga and Alaknanda Puri, on a Journey to serve the Guru in the Formless, traveling throughout Europe in service of eternal light of peace through divine grace… leading traditional yogic and ayurvedic workshops throughout Europe.
Traveling throughout Europe to pass on the knowledge of living in yoga, they will be giving various workshops in the traditional teachings from India of Raja yoga, Bhakti yoga, Hatha yoga, meditation, pranayama, Yoga Sutras, Bhagavad Gita, Vedanta and Ayurveda.
YogAnga Retreat European Tour 2016 Dates
NOTE: The Google calendar may show event times in the current time zone in which you are viewing this website. Scroll below the Google calendar to view exact times in time zones for each particular destination of the tour.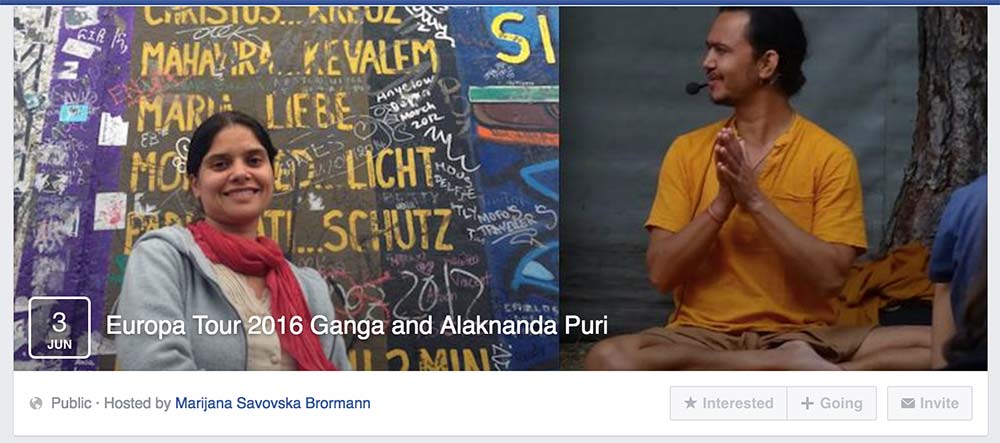 VIEW FACEBOOK EVENT PAGE
(dynamic list – note previously occurred events will not display – view full static list)

Nothing from Sunday, 21 January 2018 to Saturday, 21 April 2018.
---
(static list)
11 June GANGA in Labergement Sainte Marie, France
Hatha Yoga class and Lecture: Bhakti Yog, Path of Devotion
event details via FB
24 – 26 June GANGA in Lommel, Belgium
24/06

11:00 Intro Yajna – register
14:00 YogAnga style Hatha yoga – register
18:00 Intro Yajna – register
19:00 Lecture on the Yoga Sutras, part 1 of 2 – register

25/06
10:00 Yoga Nidra workshop – register
14:00 YogAnga style Hatha yoga – register
19:00 Lecture on the Yoga Sutras, part 2 of 2 – register
21:00 Gayatri Yajna – register

26/06 10:00 Yoga Nidra workshop – register
9 – 10 July ALAKNANDA in Maarssen, Holland
Sukshma Vyāyām – event details
Marma points (Ayurvedische Energie Therapie) – event details
14 – 26 July ALAKNANDA in Berlin, Germany
Einzel Ayurveda Beratungen bei Dr. Alaknanda zu buchen.
Über mail@yogama.berlin oder sms an Marijana 01786118212
2 – 7 August ALAKNANDA in Burgas, Bulgaria
( details to be determined )
---
view 2015 Tour
---
view 2014 Tour