Intensive One Month Certified Yoga Teacher Training in India 
200 Hour Yoga Teacher Training Course  in India
The course includes: Clinical Yoga (Shatkarma cleansing kriyas), rajas style asana series, mudra, pratyahara, pranayama, Basic Anatomy & Physiology, and Introduction to Hatha Yoga Philosophy.
Become a yogi, where yogis are raised, in a spiritual oasis on the banks of the Ganga River, in the foothills of the Himalayas, between Haridwar and Rishikesh. Learn to live a traditional yogic lifestyle, cultivate your discipline to continue onward with a further developed self-practice and become qualified to teach and lead others as well.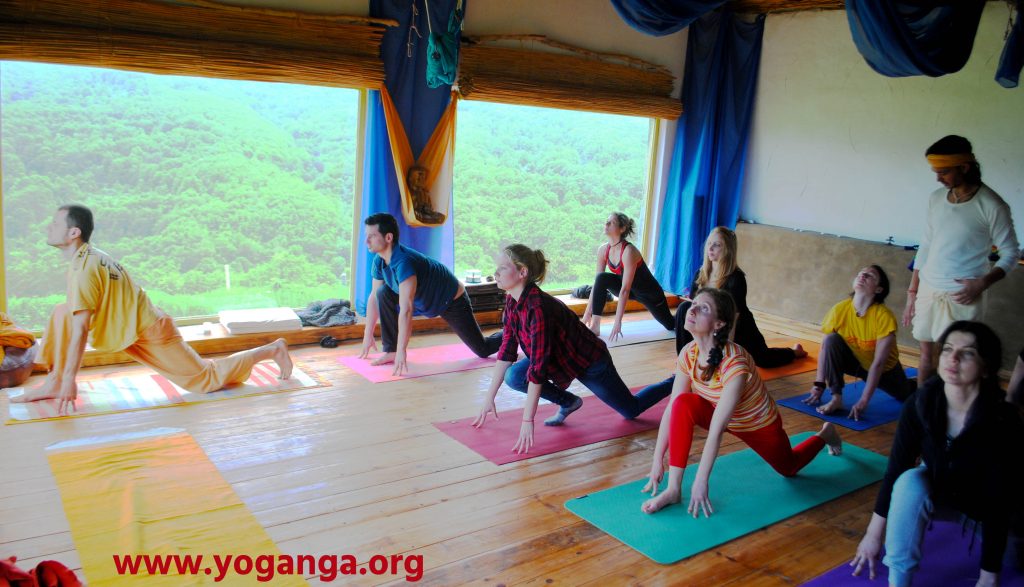 āyāsa vinyāsa YogAnga abhyāsa

200 hour One Month Yoga Alliance Certified Yoga Teacher Training Course in India
9th September – 9th October 2018
Best to arrive at least one day before the course, but you may be able to arrive earlier and/or stay longer.
Arrival: Official Check in 8th September 2018
Departure: Official Check out 10th October 2018
Cost: 1700 EUR – which includes room & board, as well as all course materials.
Non-Refundable Deposit: 100 EUR (for one month only) / 500 EUR (for all three months)
EARLY BIRD SPECIAL: register before June 1st, 2018 and pay only 1600 EUR per month!
NOTE: You can register for the first month at 1700 and decide later if you would like to finish the following months. Or register for all three months yoga teacher training course at once at a discounted rate. Also, payment plans are available if needed.
DOWNLOAD APPLICATION FORM and return it to om@yoganga.org
This one-month intensive program is led by Ganga Puri, Mandakini Puri and Alaknanda Puri, as well as other guest instructors.
"YogAnga is a unique and the most evolved yoga sequence of self-practice to know mystical presence of the natures evolution that evolves one who seeks for it intensely…welcome and join the austerity tapasya in the ashram… " – Ganga Puri
Basic syllabus: for upcoming yoga teacher training in 2018: India 
9th September – 9th October 2018
• YogAnga SHATKARMA sequence
[aka Clinical Yoga – The first limb of Hatha Yoga, six cleansing practices according to the ancient scripture "Gheranda Samhita" meant to purify the body and prepare oneself for the practice of asana, etc.]
NOTE: this course can be taken separately from the Teacher Training, in which case participant would join the morning YogAnga SHATKARMA sequence sessions, and then the general asana class.
• YogAnga ASANA sequence – Rajas style (holding each asana for 3-5 breaths)
[Done according to the moon cycle: starting with the day after the new moon, with eight asanas added every two days, until the series expands to reach 56 total asanas by the day before the full moon, then eliminating eight asanas every two days until the day before the following new moon, like the waxing / waning of the moon. New Moon / Amavasya and Full Moon / Purnima are days off. Sundays are self practice / co-teaching days.]
• YogAnga MUDRA sequence – a combination of asana, bandha and pranayama
• YogAnga PRATYAHARA sequence – guided techniques of controlling the senses
• YogAnga PRANAYAMA sequence – guided breathe / life force techniques
• Observation & Alignment
• Basic Anatomy & Physiology – the skeletal, muscular, respiratory, nervous & endocrine systems including movement of joints & it's application to yoga
• Introduction to Hatha Yoga Philosophy
• New Moon (amavasya) & Full Moon (purnima) Yajna (fire ceremony)
• Some days will be designated for field trips to nearby local attractions / temples / ganga baths.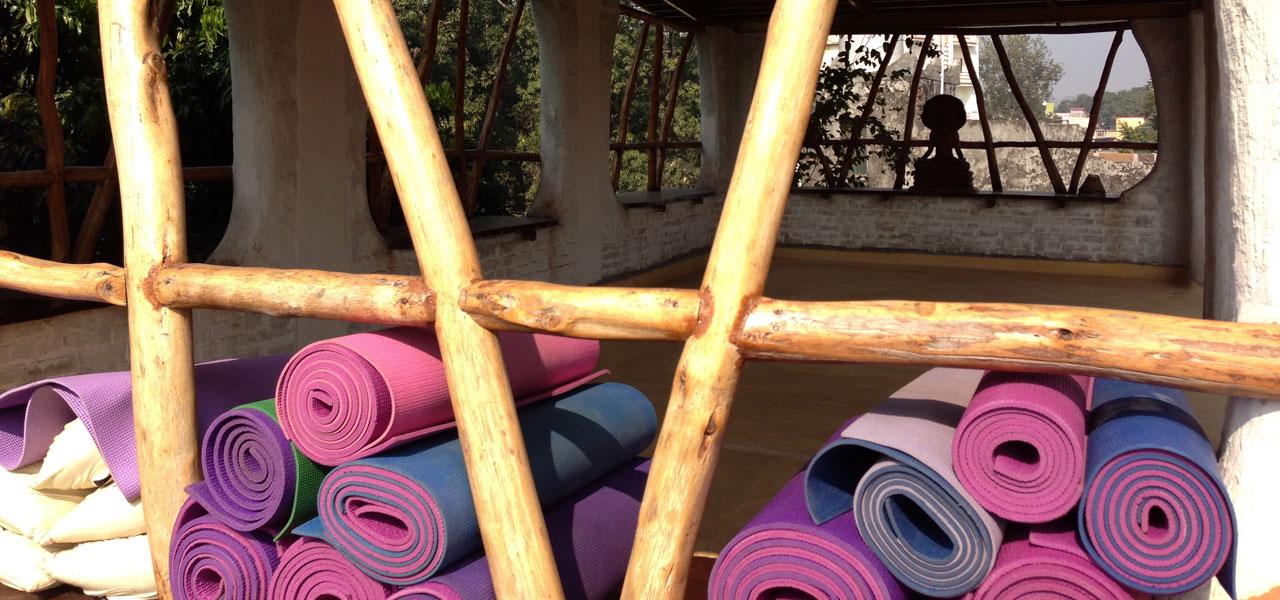 After over twelve years of self-study, continuous practice and deep devotion, Ganga Puri has developed his original yoga style he calls "āyāsa vinyāsa YogAnga abhyāsa", a seven limbed hatha yoga practice which includes: Shatkarma, Asana, Mudra, Pratyahara, Pranayama, Dhyaan and Samadhi as mentioned in ancient scripture. Designed to instil enthusiasm and discipline in aspiring yogis, as well as inspiration to maintain one's own self-practice, Ganga's yoga sessions bring precise alignment of the physical body, awareness of the breath as well as the prana, clarity to the mind, balance of the three gunas as well as the male/female energies within, opening of the chakras and a heightened connection with the natural and supernatural universe around us.
200 / 500 hours Yoga Alliance – one-month yoga teacher training certification courses in India.
 Exact dates vary year to year, according to the moon cycle, all courses start on the New Moon.
[Spring session approximately Mid-March through Mid-April
Autumn session approximately September through December]
DOWNLOAD APPLICATION FORM and return it to om@yoganga.org
Spring Session 01
200 hours Yoga Alliance – one-month certificate course –
get a sample taste of all three Autumn sessions. Clinical Yoga (shatkarma cleansing), a mix of all three asana styles: Rajas, Tamas & Satva, with introductory lectures on Ayurveda, Yoga Philosophy, beginner's Sanskrit as well as other aspects of living a yogic lifestyle.
Autumn Sessions 01,02,03
However it is recommended one participate in all three months, earning a total of 500 hours, each month can be taken separately, preferably starting with Session 01. Admission to Sessions 02 & 03 will be determined by the Lead Instructor, based on prior experience.
– Autumn Session 01 – Rajas / Clinical Yoga
– Autumn Session 02 – Tamas / Ayurveda
– Autumn Session 03 – Satva / Therapeutic Yoga
Upcoming 200 Hour Yoga Teacher Training Course India 2018 – 2019
YogAnga School of Yoga & Ayurveda offers 200-hour residential Hatha and Ashtanga Yoga Teacher training course in India in 2018 and its registered with Yoga Alliance, USA- RYS 200, RYS 500.
YogAnga – 200 Hours Yoga Teacher Training in Haridwar, Rishikesh
17 March (new moon) to 16 Apirl 2018 (new moon)
YogAnga – 200 Hours Yoga Teacher Training in Haridwar, Rishikesh
09 Sept (new moon) to 9th Oct (new moon) 2018
YogAnga – 200 Hours Yoga Teacher Training in Haridwar, Rishikesh
06 March (new moon) to 5th April (new moon) 2019
YogAnga – 200 Hours Yoga Teacher Training in Haridwar, Rishikesh
28 Sept (new moon) to 28th Oct 2019 (new moon)